Tan Leather Belt, Full Grain Leather Belt, Plain Leather Belt, Real Leather Belt, Mens Jeans Belt
Price in reward points: 1300
Product Details
Brand: LATICCI
Product Code: lb-10067
Reward Points: 39
Availability: In Stock
Tan Leather Belt with Antique Silver Finish Italian Full Grain Leather. A classic Italian full grain leather belt, raw, no color, no finish, just pure fresh leather with smooth edges. This real leather jeans belt has no dye or polish treatment and will develop beautiful and unique patina over time from exposure to sunlight, moisture and oils. 1.5in width.

Italian full grain leather is by far the best quality leather available. It is made of hides tanned with vegetable oils, has a distinct sweet scent, and is very very strong. This standard natural belt won't crack, the holes won't stretch, it won't peel, nor tear. This tan belt is very special, because the leather is fresh, this means that it will develop patina over time. If you are looking for a belt that has coloring or patina, you can look at standard jeans belts or vintage belts. This men's real leather belt is pure tanned cowhide, like in the picture, and it will change over time.

Have you ever seen and instantly wanted a super beautiful vintage leather belt? This belt will become such a belt over time through exposure to the elements. If you want a belt that will last you a lifetime and be uniquely yours, a fresh Italian full grain leather belt is a great choice. This is the original leather belt, made like they used to make them.

Unlike our studded belts, that feel stiff and strong, this leather belt is soft and can be easily twisted in different forms and directions. When you receive it the surface will feel somewhat soft, but it will become glossy over time.

The buckle is a single prong gun metal buckle. Classic looking and reliable.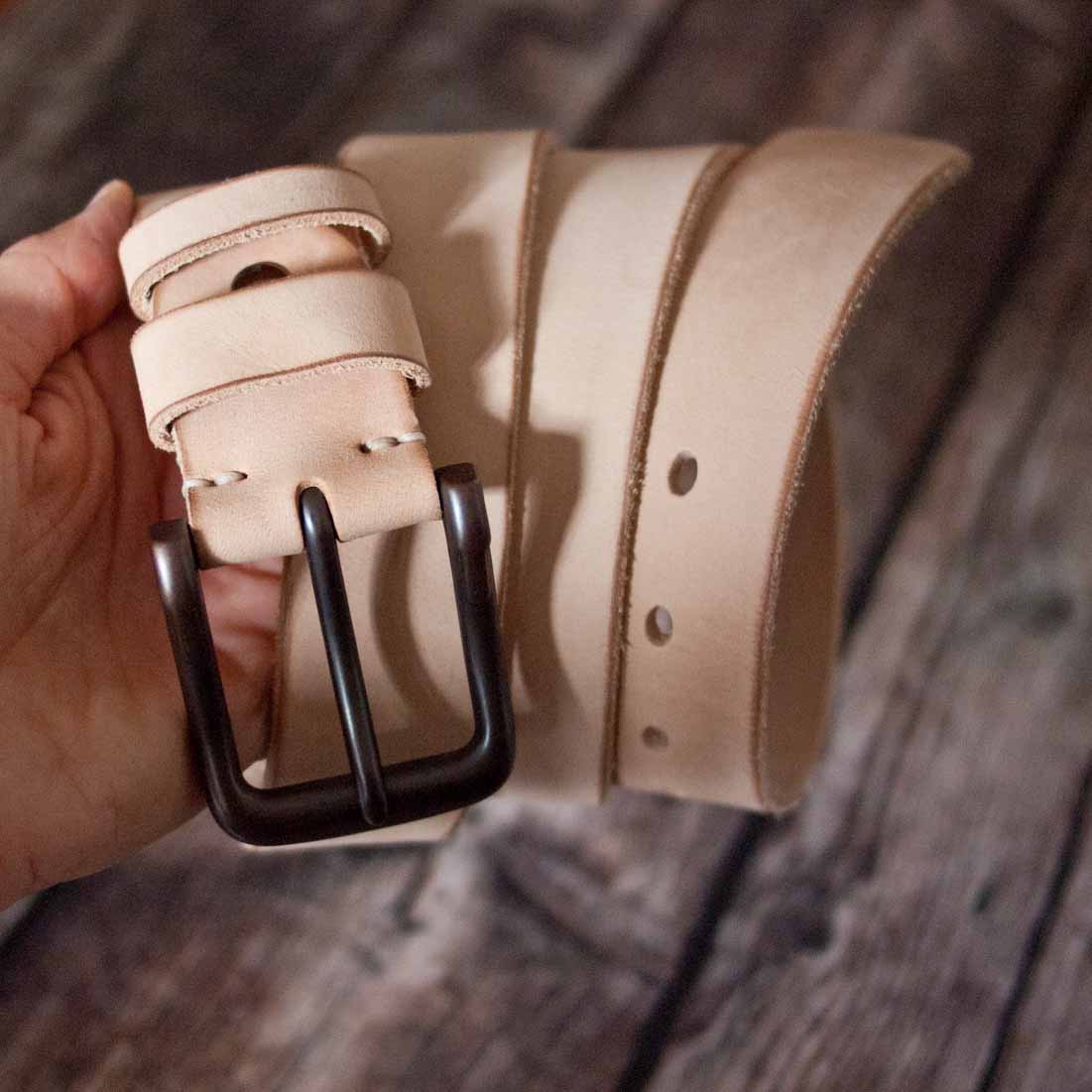 ---




Delivery Times
All products are shipped with

tracking.
We will notify you by email as soon as your order is shipped and provide you with a tracking number.
Most orders are shipped within 3-4 business days after an order is placed, but some orders may take longer. If you don't receive tracking information within a week of placing the order, please email us for more information or a request to cancel your order.

Standard Shipping*

Please expect your order's arrival within:
US: 5-10 business days after shipment
Rest of the world: 2-3 weeks after shipment
Express Delivery
At the moment, we don't offer express delivery.

Returns
If you are not happy with the item you receive, you can return your order within 14 days of its arrival.
Returns are accepted at our warehouse in California for US customers.
Customers from other countries can use our facilities in Australia, Canada, Germany, and China.
For more information or to submit a return request, please click here. (opens new window)
To learn more
about shipping and delivery, please
click
here
. (opens new window)
For a list of Frequently Asked Questions and answers, please click here. (opens new window)

*Please note that while over 95% of packages are delivered on time, occasionally some packages take longer due to delays at Customs or during Shipping Carrier processing.
Such delays are beyond our control and we cannot be held responsible for them. If your package is arriving very late and you no longer want the item, we will offer you a full refund, on return of the item.

fastest deliveries
You Recently Viewed