Skull Studded Belts
Browse through our selection of mens skull belts. Laticci's studded leather belts are made with Italian full grain leather and heavy metal hardware. All of our mens studded belts come in beautiful black box packaging,. If you are looking for a studded skull belts that are also durable, choose our extra strong leather skull belts.

1. Black Skull Studed Belt (Black)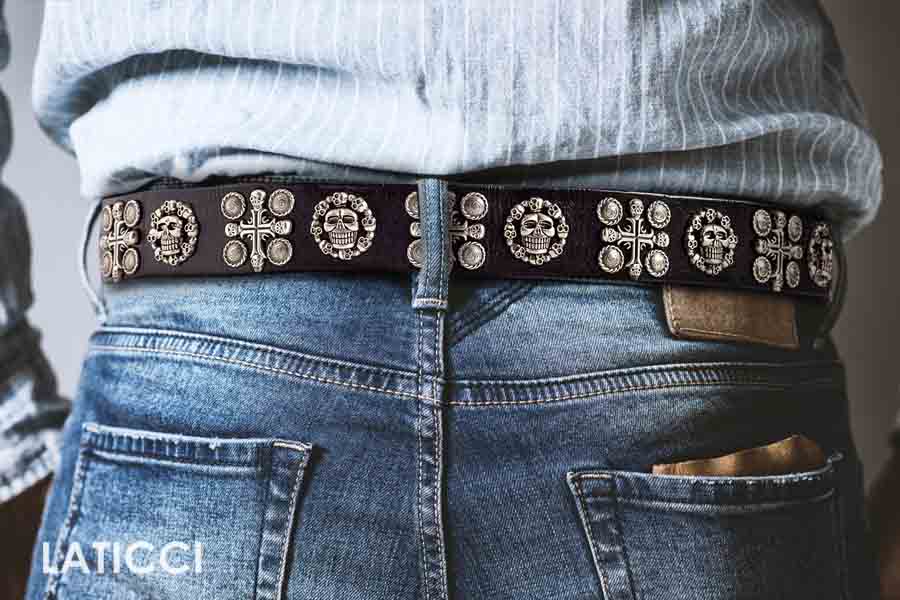 .
A rocker belt with rivets. This is a fine quality mens stud belt with a few different metal skull studs, alternating with a skull face surrounded by mini skulls and cross with skulls. This style is suitable as a casual everyday belt in a rock aesthetic. This is a premium Italian leather belt in 1.5inch width. Sizes available are 30-44in. This is a very cool mens belt for jeans with silver studs.

This is a beautiful brown rock belt. A skull belt with beautiful antique silver studs in dark brown leather with some burnishing and uneven tone. Add rock vibes to your jeans outfit with this leather skull and bones belt. Crafted with Italian full grain leather, this is a very durable belt and a long-term accessory.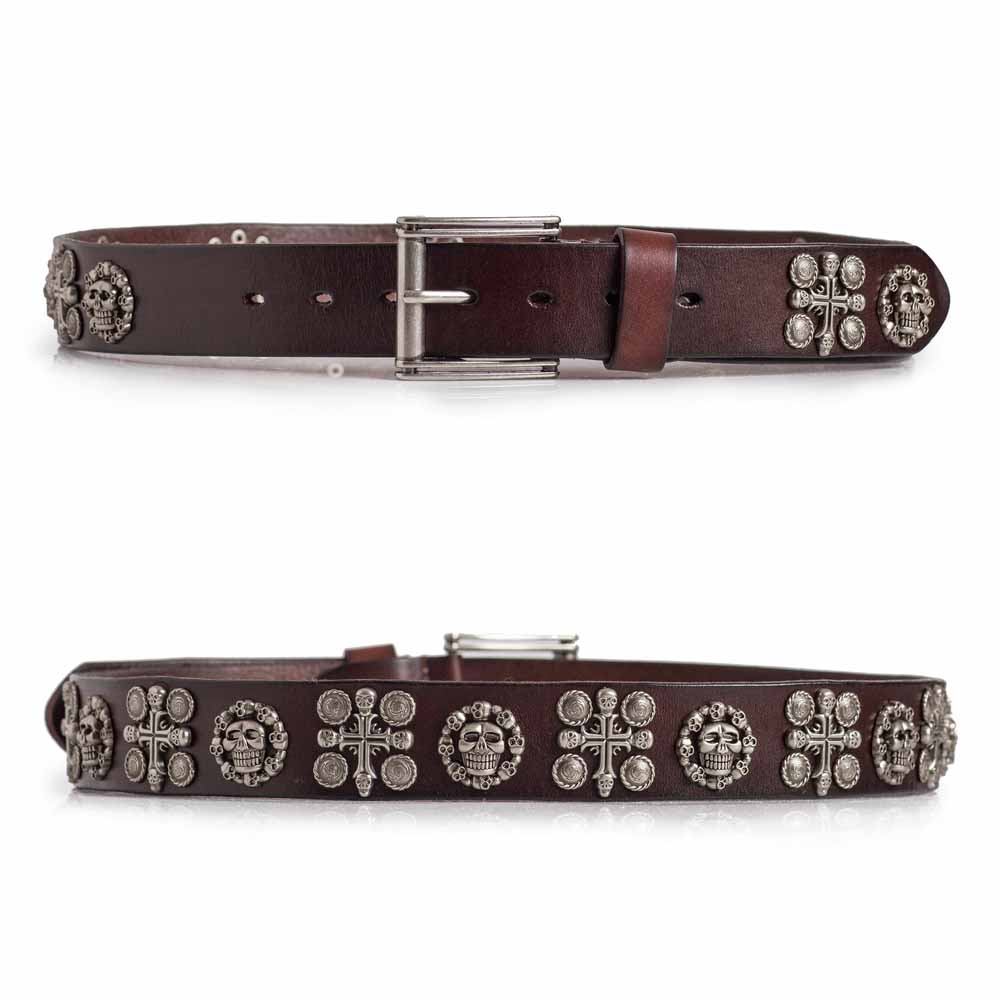 To make sure you get a belt with the perfect fit, please make sure to refer to our size chart before ordering. All our belts can be easily shortened 3-4 inches if needed. Please note that the size does not refer to the total belt length, it refers to the length from buckle base to the 2nd to 3rd hole on the belt.
Like this style?
Buy it on our website here

Buy it from our Amazon store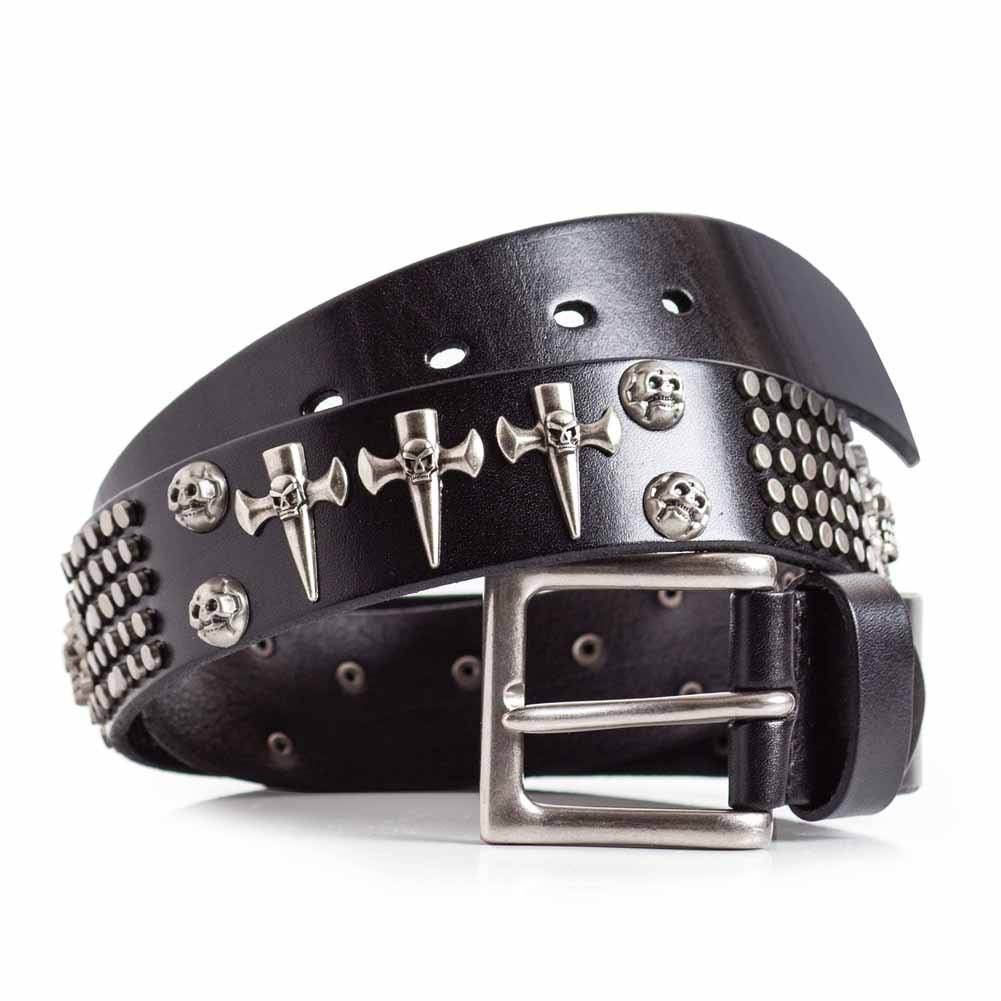 This is a real rebel belt, a mens skull belt decorated with silver skulls, crosses, and 5 rows of flat studs. This is a more punk belt that is a very cool party belt and concert belt. This is a cool belt style and the studs on it are slightly less heavy than the one above.

Buy it on our website here
Buy it on our Amazon Store

This style is also quite popular and customers are mostly happy. We have been working to address the sparse studs issue. If this style or any of the other styles experience quality issues, please contact us so we can help fix them. From time to time we see belts that have moving studs, we always help resolve this kind of problem, even if you purchased you contact us many months after your purchase, so please do. However, if you don't contact us, we won't know there is a problem.

4. Designer Skull Studded Belt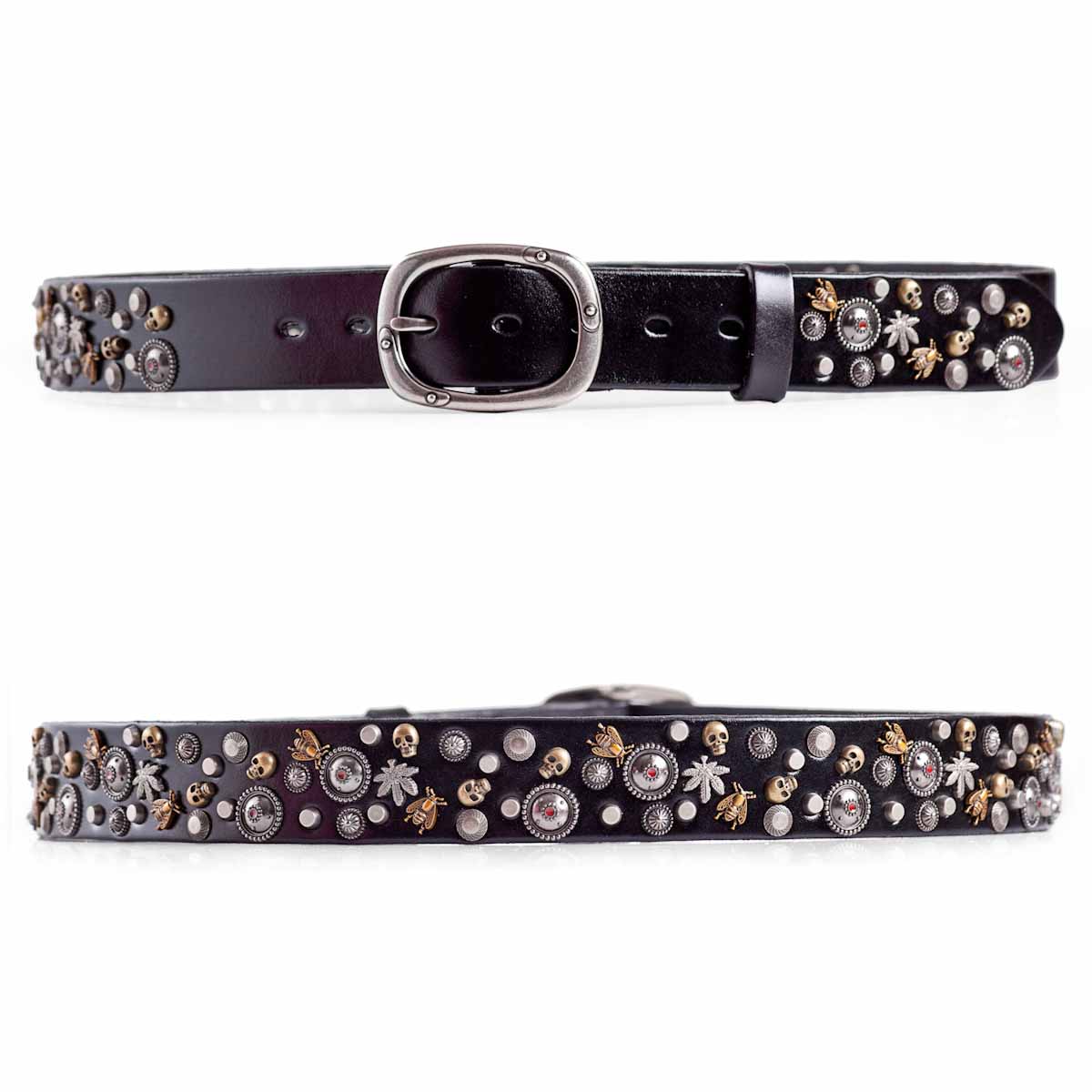 A new addition to our catalogue is this colorful belt with skulls and mix color studs. This is a fun belt that with the oval buckle and very decorative studs is more unisex than our other offerings. The is also 1.5in width and has an interchangeable buckle holder. Each stud is individually added by hand.

Buy it on our website here
Buy it from our Amazon Store

5. Punk Rock Spade Studded Belt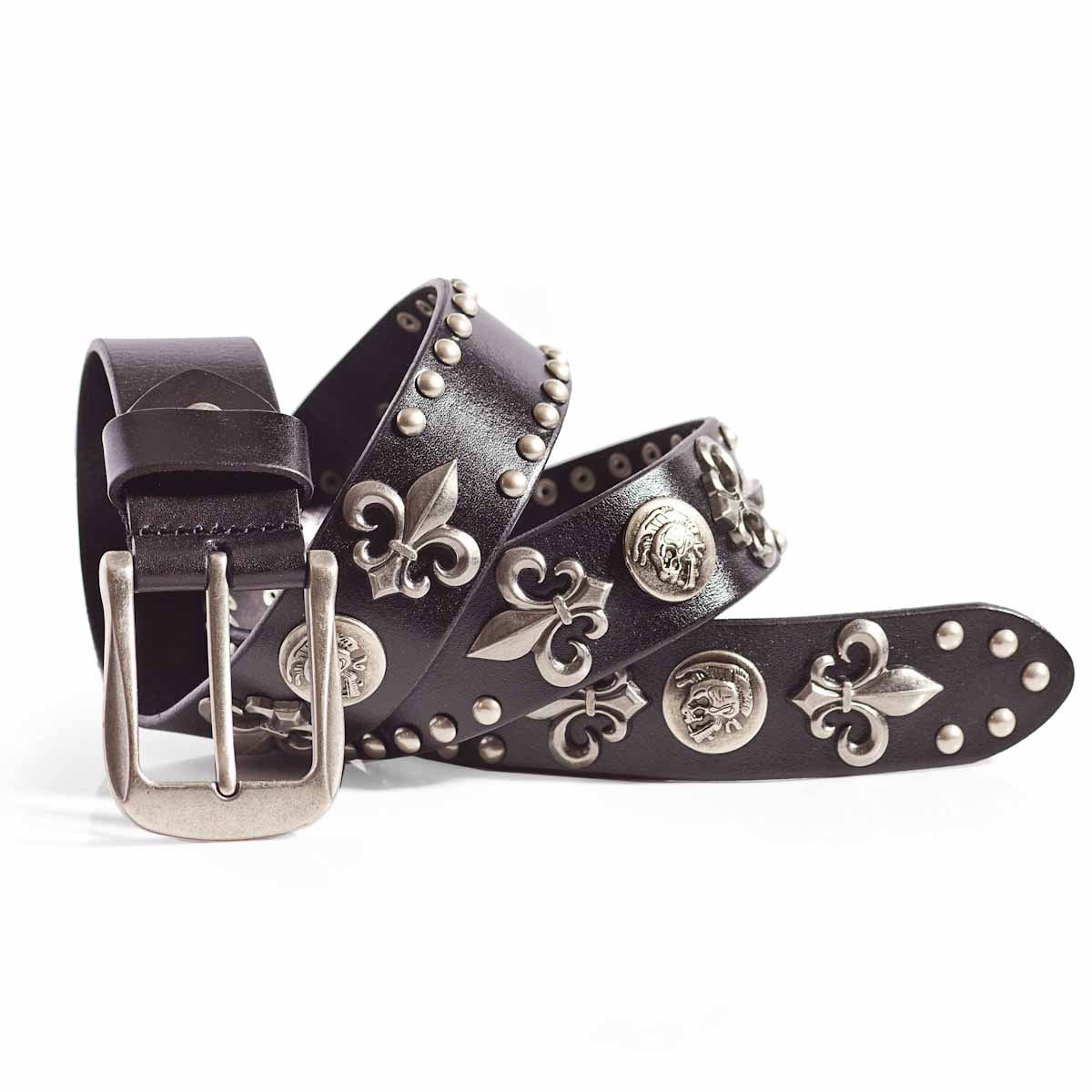 Last but not least is this punk rock studded belt with spade studs and mohawk skull round studs. This is a stylish skull belt where the skull detail is more subtle. Same as the above, this is a 1.5in belt with interchangeable buckle holder.
Buy it on our website here
Buy it from our Amazon Store
---
6. Rhinestone Skull Belt Buckle (Honorable Mention)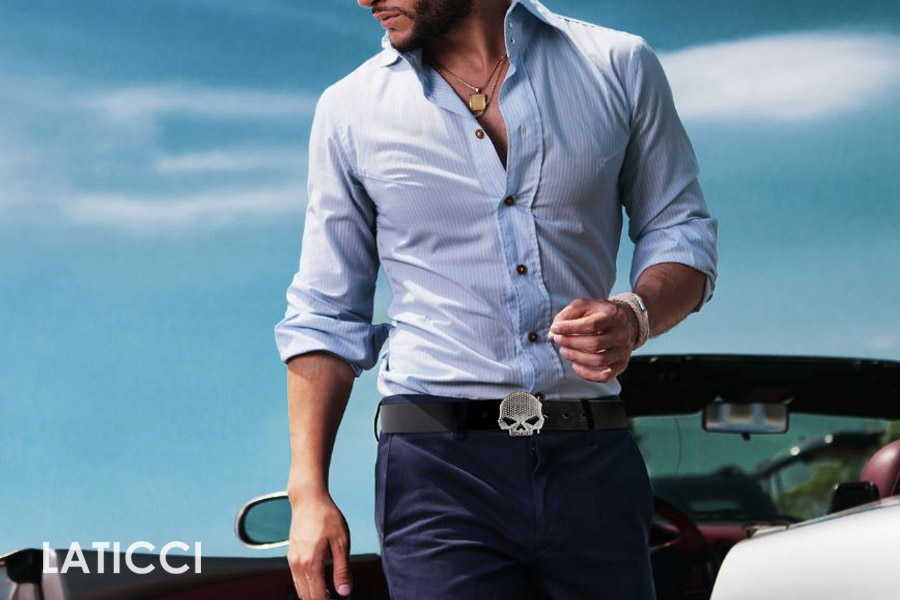 .
Add bling to your outfits with this diamond skull buckle belt. This skull belt is fun to wear, has solid construction, and is very badass. This is a super cool mens belt that shines beautifully during the day and at night in the club. Awesome club belt that leaves a lasting impression.

Buy it on our website here
But it from our Amazon Store

---
We hope you have found a skull leather belt you like, if not you can check out some of the other belts we have in our catalogue.

---
Showing 1 to 6 of 6 (1 Pages)