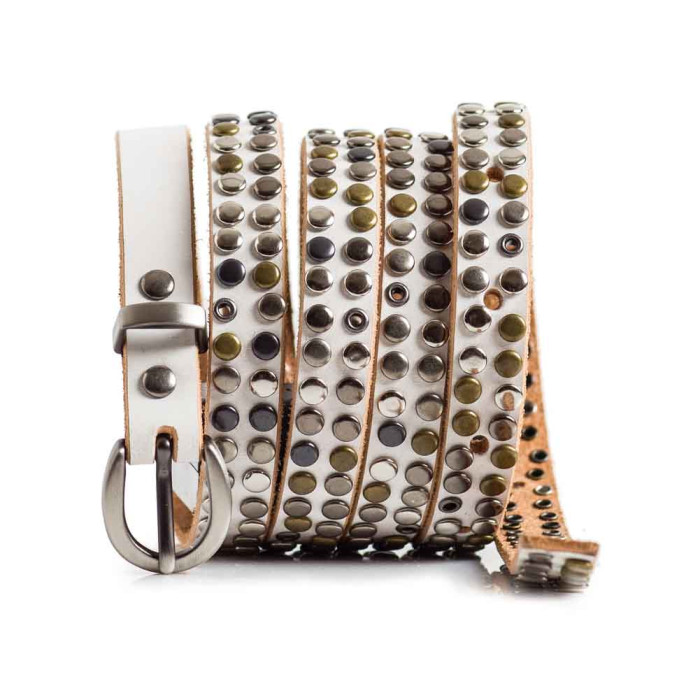 Womens White Skinny Belt with Studs 1in
Brand:
LATICCI
Product Code:
lb-10022-w
Reward Points:
19
Availability:
In Stock
$19


Womens white skinny belt with studs. This is a cute thin belt for skinny jeans.A fun belt design with 2 rows of mini studs and white leather, multicolor studs, and small D-shape silver buckle.
This skinny studded belt features 2 rows of small round studs studs and a high quality genuine full grain leather belt strap. This white studded belt for women fits easily through standard jeans and skirt loops, and is a versatile accessory that can also be worn with dresses, tied at the waist.
The silver studs are securely attached to a white leather strap that has color and finish on the front side and natural leather color with sealing on the inner side. The belt has a straight cut tail end. The buckle is a D-shape silver color stainless steel alloy buckle. The strap has 9 holes 1 in apart..




This white belt for skinny jeans is a great choice, because it is delicate enough to stay subtle, but strong enough to do its belt job, as it is made of fine Italian leather. This white belt is especially cute with white skinny jeans, but also goes well with light and dark blue jeans.


Wear this skinny studded belt everyday with jeans, denim skits, and even shorts. The white studded belt is a long term accessory.
Care instructions: no soaking. wipe with damp cloth only.

Width: 0.8in | 2cm


Explore Other Products









Product Details